Buteman ceases publication after 164 years
The once proud and vibrant local paper, eagerly awaited each week for the latest news and views from people around Bute have confirmed that it is to stop publication of the title in just 2 weeks time.

Sadly this news will not come as a surprise to local people, who have seen a steady erosion of local content, a decline in local advertisers, and a local paper that no longer has any staff based on the island, with reporter Kevin Quinn and editor Janet Bee based in Edinburgh.

On 17th May 2019 the Buteman posted on their website asking for more community support, saying: "The Buteman has been going strong since 1854, keeping islanders up to speed with the news that matters to them. To continue to do this we need your help. The Buteman no longer has a reporter on the island. So to help Kevin fill your local newspaper with your local stories please get in touch with him."

But the rumour mill went into overdrive when the paper is reported to have notified an official at Argyll and Bute Council that they could not accept public notices or planning adverts after 19th June, with the company confirming the decision to cease publication on Tuesday 4th June 2019.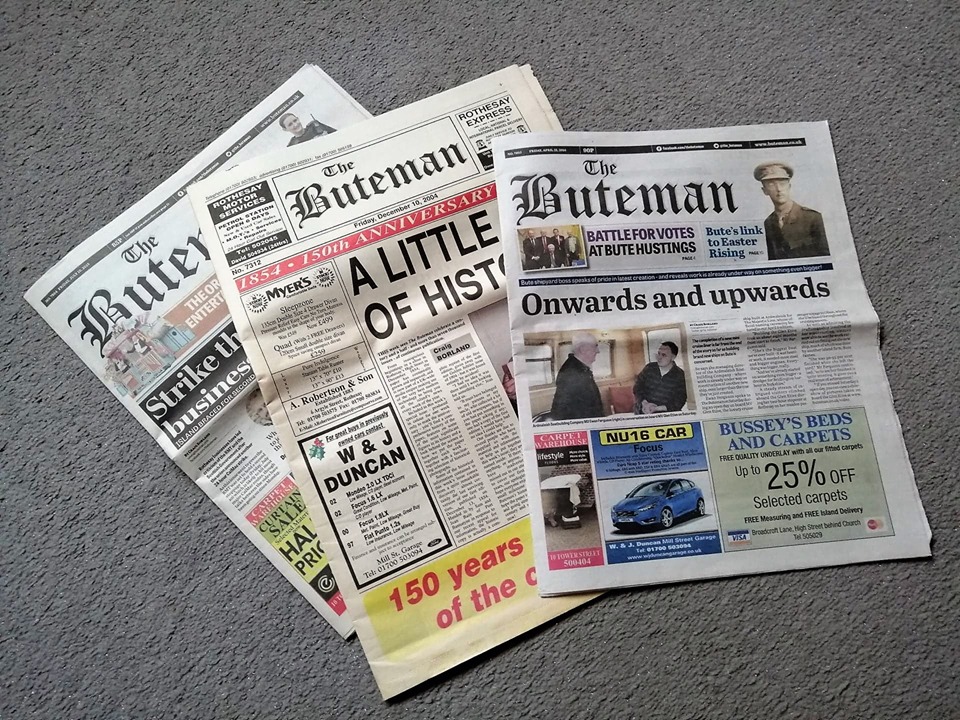 Craig Borland, former editor of the newspaper said "The Buteman has been dying for a while. One of the criticisms of The Buteman I see most often is that it's full of content that's not relevant to Bute. That content is as relevant to Bute as it is to Brechin, and means as much to people in Falkirk as in Fraserburgh, but that content is not local. And something is far wrong if you've lost sight of the significance of that, in terms of making people want to read their local newspaper."

Local Councillor, Jean Moffat (Independent, Bute) said "I'm so very saddened to see the end of the Buteman. I am not in the least surprised however. The lack of concern [by Johnston Press] for the small local papers was shown by them being filled with non newsworthy articles that had no local content and irrelevant to an island community.

Brendan O'Hara MP (SNP, Argyll & Bute) commented "It's really sad to see the end of the Buteman after more than 150 years in circulation. Rural communities the length and breadth of Scotland rely on these local news outlets and it is a huge blow for the local community, for local voices and opinions. This is very sad news."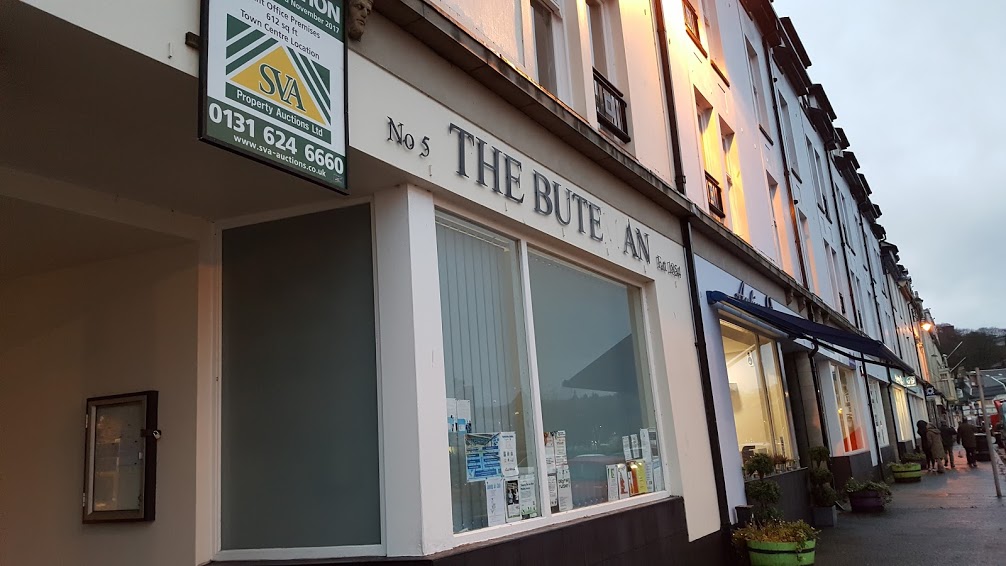 Michael Russell MSP (SNP, Argyll & Bute) said "The loss of the Buteman will be felt keenly on the island. It has, like most long published local newspapers, been relied on to keep residents up to date with news, events, a bit of gossip and the odd speculation. Residents set their clocks by its appearance and exiled Brandanes (the name for a native of Bute) looked forward to being kept up to date every week with what was happening back home. It will leave a big gap, but the constant rundown of the paper by its owners over the last few years has made this a sad inevitability."
There has been much criticism about the group strategy the owners pursued, from the purchase of 'The I' newspaper, to the focus on digital news providing news content free of charge online, not to mention the pension black hole that saw Johnston Press enter administration to re-emerge as JPI media.

Craig Borland said "The thing is, providing news online for nothing doesn't make money – at least at first – and where your advertising market is as limited as it is in The Buteman's case, I'm struggling to see the commercial logic behind the strategy JP adopted all those years ago… was it ever going to work for small weekly local papers like The Buteman which have always been at the heart of their community?

"I understand that since I left JP in 2016 the company has attempted to go the other way on some of its papers at least, by more or less stopping online news provision and focusing on print. If so, great, but that may be a case of shutting the stable door when the horse has already not so much bolted as disappeared over the horizon in a cloud of dust."

We asked JPI Media about the decision to close the paper, asking if it had been offered for sale or if they had explored other options for the title to continue beyond JPI Media. We also asked if there were any legacy arrangements to preserve the archive of the paper for the local community. A spokesperson for JPI Media said "There is no on the record comment from the Company, but I can confirm that the paper will be closing with the last edition published on week commencing 17th June. No jobs will be impacted by this decision."

And what of the future of news reporting on Bute? Cllr Jean Moffatt said "Rural areas need good access to local news. A statutory duty of local councils is the posting of all and every planning application. They also rely on local papers to inform constituents. Media information comes in many forms but the well written word in a responsible local paper is still valid and worth having."

Craig Borland added "Bute deserves a proper, functioning, thriving, interesting local news service. Online will probably never pay for itself in such a small place (at least along the lines that JP adopted). But in Arran, Campbeltown, Oban, Lochgilphead and Dunoon, to name but five communities there is a model that works. It would be a crying shame if Bute simply becomes a news vacuum: not because of the work I, and everyone else who has worked for The Buteman in the last 164-and-a-half years, put into it, but because the people of Bute deserve better than that."